COVID-19 Health Alert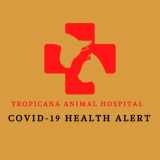 Being an essential business, we will remain fully functioning and will offer some car-side service options in addition to our traditional in-person services.Should you need to have a prescription filled, please call or email us prior to coming in so it allows us time to fill it. If your pet is low on dog or cat food, please contact us as well so we can order it for you, or if we have it in-stock, put aside. For now our hours will remain the same and we are following additional guidelines recommended by the CDC to keep our staff and clientele safe.
UPDATE: 3/21/20 Emergencies can, and do happen all hours of the day, which is why at Tropicana Animal Hospital Emergency care is available during operating hours.
For after hour emergencies, please call the Animal Emergecny Center of Las Vegas and Henderson at (702) 457-8050. They are located at 3340 East Patrick Lane, on the North West corner of Pecos and Patrick.
Thank you for being a loyal customer,
Phone: (702) 736-4944
Email: This email address is being protected from spambots. You need JavaScript enabled to view it.