Temporary changes to our business hours starting April1st, 2021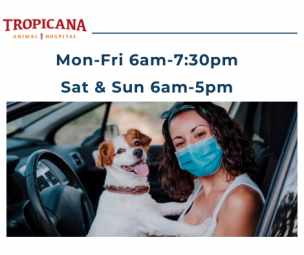 In the past 12 months there has been a great increase in pet ownership and therefore veterinary care. Tropicana Animal Hospital has always tried to provide convenient hours and be available to our clients when they desire our services. This increased need for veterinary services has created our entire staff to have to stay late, and then return very early the next morning. Starting April 1st, our hospital will be closing 30 minutes early each day during the week, so our hours will be 6am-7:30pm Mon-Fri, and normal 6am-5pm hours on Saturday and Sunday. We realize this is a little inconvenient for some, but we still have the same desire for providing the very best service for you and your pet. We would encourage you to come in earlier in the day as this would make it better or you, your pet, and our staff. We appreciate your understanding in this matter and we promise the same quality of service and medical care you have received over the past 47 years will not change. Thank you very much for your understanding during these difficult times, but also thank you for your loyalty over these many years.
For after hour emergencies, please call the Eastern Emergency Animal Hospital at (702) 262-7090. They are located at 8405 S. Eastern Ave #100, Las Vegas, NV 89123.
Thank you for being a loyal customer,
Phone: (702) 736-4944
Email: This email address is being protected from spambots. You need JavaScript enabled to view it.