Dr. James E. Nave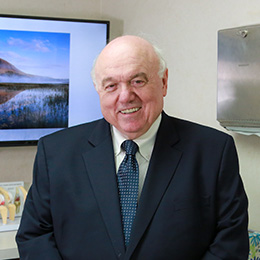 Hometown: Protem, Missouri
Undergraduate Studies: University of Missouri
Veterinary School: University of Missouri College of Veterinary Medicine
Dr. Nave graduated in 1968 from the University of Missouri College of Veterinary Medicine. He joined the US Army after graduation from veterinary school and served in as a Captain in Vietnam where he was awarded the Bronze Star for his military Service. He was discharged in 1971, and shortly after settled in Las Vegas, NV.
Dr. Nave has mentored hundreds of veterinarians throughout his career, and continues the mentoring process to this day for veterinarians ranging from veterinary students, new graduates, and seasoned veterans. He truly believes leadership is the key to success and strives to promote that throughout his colleagues.
Dr. Nave has been active in organized veterinary medicine at both the state and national level throughout his career. He is the past president of the American Veterinary Medical Association (AVMA) as well as the past president of the Nevada Veterinary Medical Association. He has also served as a member of the Nevada Board of Medical Examiners. As president of the AVMA, Dr. Nave played a key role in restructuring the political process, establishing a mentorship program for new graduates, and emphasizing the importance of sound business principals in the practice of veterinary medicine through the establishment of the National Commission on Veterinary Economic Issues.
Dr. Nave and Nevada Senator Harry Reid were instrumental in an effort to restore the general star to the leader of the veterinary corps from the prior rank of colonel. President George Bush signed a defense authorization bill passed by Congress in 2003 containing a provision requiring that the rank be changed. About a year later, Dr. Nave attended the swearing-in ceremony of Dr. Michael Cates who became the 23rd chief of the Army Veterinary Corps. In keeping with a law passed by Congress, the colonel was promoted to the rank of brigadier general.
Dr. Nave presently chairs the AVMA's National Commission on Veterinary Economic Issues and is that organization's Globalization Liaison Agent for Education and Licensing. He is also a member of the Board of Directors for Station Casinos Inc., Western Alliance Bancorporation and Bank West of Nevada.
The Western Veterinary Conference dedicated its 75th Diamond Jubilee meeting in 2003 to Dr. Nave for his untiring devotion to his profession. He is credited with helping mold the conference into one of the world's finest continuing education opportunities.
In addition to veterinary medical activities, he also has an interest in athletics. Dr. Nave was a member and chairman of the Nevada Athletic Commission for 12 years, and was the sole commissioner to vote against Mike Tyson's reinstatement in the late 90's. He was the North American Boxing Federation's 1990 Boxing Commissioner of the Year, and the World Boxing Council's Boxing Commissioner of the Year in 1992, 1993, 1996, 1997, and 1998.
Dr. Nave was named Nevada Veterinarian of the Year in 1988 by the Nevada Veterinary Medical Association. He was the University of Missouri College of Veterinary Medicine's Alumnus of the Year in 1987 and earned the University of Missouri's Faculty-Alumni Award in 2001